If you have an area of land that contains heavy brush that needs to be removed, you should consider contacting a landscaping company about brush hogging. Brush hogging, also called bush hogging, is a type of landscaping that involves rough-cut mowing, clearing areas of brush and small trees. Landscapers use brush hog rotary mowers to remove heavy brush to clear land for purposes such as hunting, farming, and real estate development.
Brush Hogging Services Downriver Michigan
If you need brush hogging services in Downriver Michigan, Cutting Edge Property Maintenance can do the job right. Here are a few common questions homeowners ask:
Q. Can you brush hog wet grass?
A. Yes, it is possible to brush hog wet grass if using a state-of-the-art, heavyduty brush hog like the ones used by Cutting Edge. However, brush hogging during or after a heavy rainfall is not recommended. Dry conditions are more ideal.
Q. How big of a tree can a brush hog cut?
A. Generally, a brush hog can cut softwood saplings that are up to 3" in diameter, and hardwood saplings up to 1.5" in diameter. Softwood saplings are easier to cut than hardwood. If your brush hog is smaller with less horsepower, it may be able to handle larger tree cuts.
Q. How much does brush hogging usually cost?
A. Landscapers that brush hog typically clear larger areas of land an acre or more. A highly professional landscaping company can brush hog one acre in about an hour, and the cost might range from $60 to $100 per acre. Variable factors include the number of brush and trees that need clearing, and the type of trees being cut.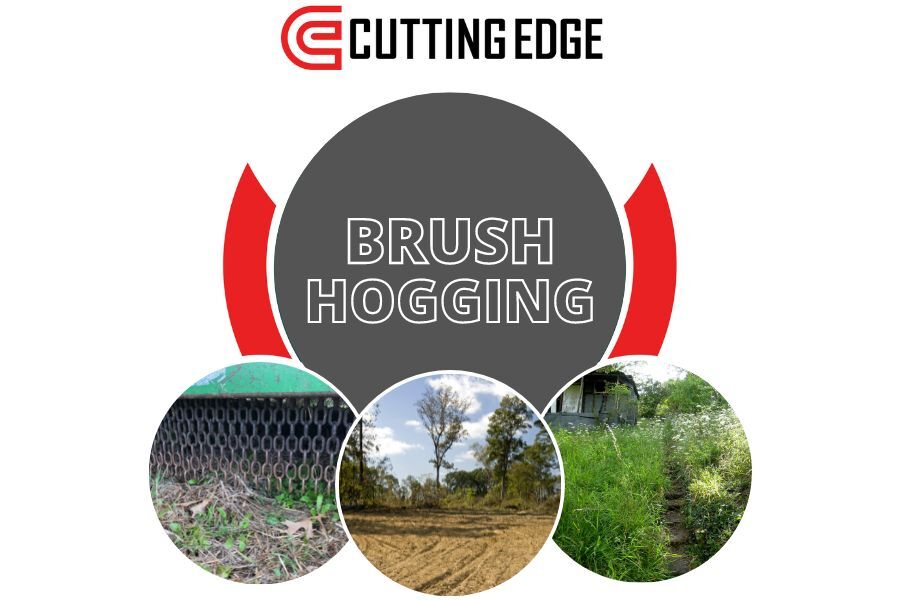 Call the brush hogging experts
Cutting Edge Property Maintenance owns commercial grade brush hogging equipment that can handle small and large jobs. If you own a farm, vacant land, or other large area that requires brush hogging, we have the expertise to do it effectively. If you're a property owner that wants to do the job yourself, it will be a difficult undertaking unless you have the proper training, experience, and equipment. Some farmers prefer brush hogging to remove grazing paddocks or mature hayfields that are overgrown. Once done, the soil can become healthy again as it soaks up organic matter that has been brush hogged.
We're a full-service landscaper
In addition to brush hogging, Cutting Edge offers a full range of landscaping
services including:
Lawn maintenance
Snow removal
Landscaping
Mulch and rock installation
Retaining walls
Sod installation
Bush and shrub trimming
Spring and fall cleanups
Our friendly customer service is top-rated, and we're known for being very responsive. We treat our customers like family, making them our number one priority and guaranteeing satisfaction for a job done right.
Not every landscaping company offers brush hogging
Some local landscaping companies offer a limited number of services but not brush hogging in Downriver MI. At Cutting Edge, we're proud to be able to offer you services ranging from weekly lawn cutting to brush hogging several acres of land. We're highly professional and versatile, and fully certified and licensed to perform residential and commercial landscaping projects. If you have a small or large yard project, we'll give you a free estimate and consultation. Just give us a call at 734-787-7151 and speak to one of our friendly, helpful lawn care experts. We'll get you set up with a quick appointment so you can focus on your other priorities. It's nice when you hire a trusted, credible company, giving you peace of mind and a chance to turn your lawn into green, lush surroundings.
We take care of everything
Whether we've done grass cutting, weed whipping, sod installation, or brush hogging, you won't need to worry about a mess on your property. Our efficient landscaping crew will complete your job quickly and meticulously, removing any brush, grass clippings, twigs, or other debris so everything will be clean and clear. You won't have to purchase or operate a riding lawn mower if you own a sprawling property—let us do the hard work. Operating heavy duty lawn equipment such as riding lawn mowers or brush hogs can be tricky and dangerous if you don't have the proper resources and knowledge. Cutting Edge is recognized in your neighborhood as trustworthy and honest, offering fair and affordable landscaping prices. You won't have to break the bank to get brush hogging or other jobs done. We'll work with you to come up with the best solution for your property. A little or a lot of landscaping TLC can really make a difference in your yard. If you're looking for curb appeal for potential home buyers, or just want a peaceful, green yard for relaxing and entertaining, we can make that happen. To learn more about Cutting Edge Property Maintenance, visit our website.