When it comes to adding curb appeal and increasing the value of your home in Downriver Michigan, low maintenance landscaping is a great option. Not only will it help make your property look more attractive, but you won't have to spend hours every week tending to it. Here are five easy ways you can add instant curb appeal with low maintenance landscaping.
Benefits of Low Maintenance Landscaping for Busy Homeowners
If you feel like each Saturday the task of maintaining your landscape and doing chores is simply too much to take on, then consider low maintenance landscaping. Cutting Edge Property Maintenance can certainly help take care of all your landscaping needs, if you like. Or, you can take advantage of low maintenance landscaping to help make your landscaping more manageable as well as adding curb appeal to your home. Here are 5 easy ways:
Using Ground Cover: One of the main benefits of using ground cover for low maintenance landscaping is that it requires very little care and attention. This type of landscaping gives your property a neat and tidy appearance without you having to spend hours mowing and trimming the lawn.
Planting Flowerbeds: This is an easy and inexpensive way to add color and beauty to your landscape. Choose flowers that are native to the area and will require minimal maintenance during the year. We can help you choose flowers and shrubs for best results.
Installing Mulch: Installing mulch around trees, shrubs and flowerbeds helps retain moisture, prevents weeds and adds texture to your landscape. It is easy to install and maintain and it can help reduce water bills as well. Mulch should be refreshed routinely however.
Adding Hardscaping: Adding hardscaping features such as pathways, decks, patios and retaining walls can add structure and definition to your landscape without much maintenance required. It's also a great way to section off your yard. We can create hardscape features that you'll love.
Incorporating Water Features: Adding a water feature such as a fountain, pond or waterfall can be both beautiful and calming. It also adds the benefit of attracting birds and other wildlife to your property.
Taking Care of Your Lawn
Even though low maintenance landscaping is preferred, you don't want to neglect your lawn. Regular mowing will help keep it healthy and attractive.
Here at Cutting Edge Property Maintenance we offer lawn maintenance that includes mowing your lawn as well as other lawn services if needed.
We can also take care of other landscaping tasks as well including fertilization, weed control, and aeration and overseeding.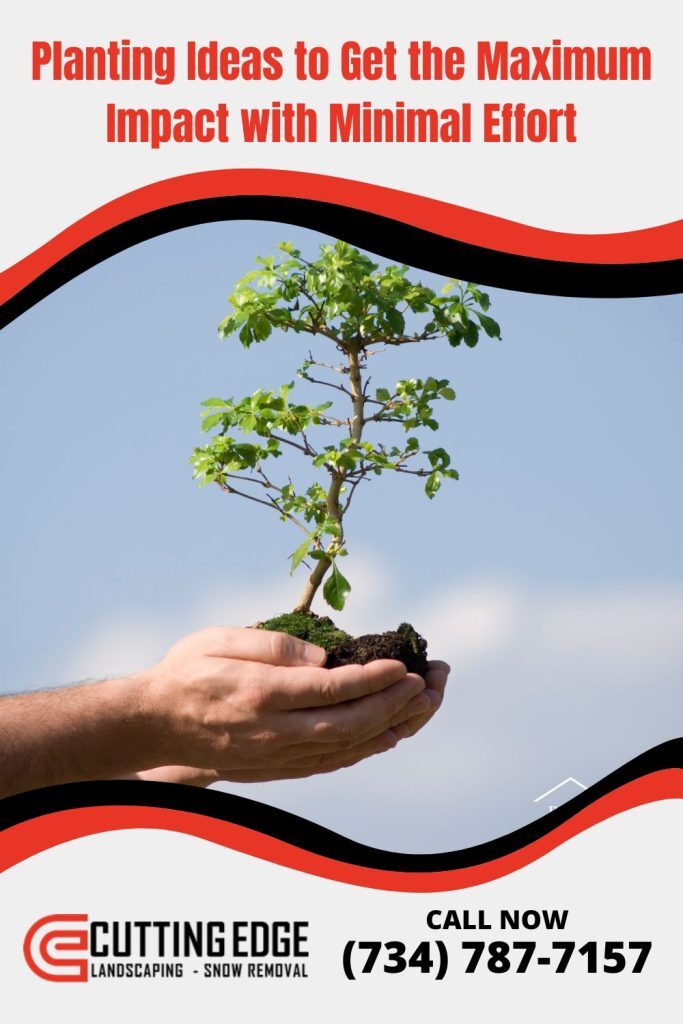 Planting Ideas to Get the Maximum Impact with Minimal Effort
It's not just your lawn that can be low maintenance. You can also incorporate plants that require minimal attention. Here are a few ideas of easy to maintain plants:
Ornamental grasses – they add texture and movement to your landscape without much effort.
Succulents – these hearty plants are becoming increasingly popular as they require very little care and they come in various shapes, sizes and colors.
Native plants – these are ideal since they are perfectly adapted to the temperatures, soil and rainfall in Downriver Michigan and require minimal maintenance.
Perennials – they come back every year without much effort or care required.
Vines – climbing vines can provide privacy as well as add contrast and interest to your landscape.
Whether you need help with low maintenance landscaping or lawn maintenance, you can trust Cutting Edge Property Maintenance to get the job done right. Contact us to learn more about our services and how we can help make your outdoor space look beautiful and remain low maintenance all year round.
Get a Free Quote on Landscape Design and Lawn Care for Your Home
Making sure your outdoor space looks its best doesn't have to be a chore. Cutting Edge Property Maintenance offers landscaping design and lawn care services so you can enjoy your outdoor living spaces with minimal effort. Get in touch with us for a free quote today! We look forward to hearing from you. Call us today at (734) 787-7157 to discuss your options and get a free quote!