Time flies when it comes to bad winter weather. It seems like only yesterday we were enjoying warm sunny days in our state, but now winter has just begun, and it's back with a vengeance. We've already had temperatures below 10 degrees, and several inches of snow. Some areas of Michigan have gotten over a foot of snow, making for a messy commute and dreaded job of snow plowing. If you own a business or have even an average size driveway, snow plowing yourself can be time-consuming and physically exhausting. By calling a licensed landscape company like Cutting Edge Property Maintenance, you'll be saving yourself time and headaches by allowing the professionals to do the job quickly and effectively.
Cutting Edge is your go-to snow plowing company
If you have a lot of snow and ice that needs to be cleared from your personal home or business, Cutting Edge has the experience and expertise you need. They have heavy-duty snow plows and other equipment, as well as highly-trained and knowledgeable snow removal experts that will get the job done fast and effectively. No matter what time of year, give them a call to set up a no-obligation estimate for your property. They'll give you a reasonable price upfront, with no hidden extra costs or fees. They are 100% reliable and trusted, that is why they are the #1 residential and commercial snow plowing service in Downriver MI. Removing snow and ice from your home or business can be dangerous and physically taxing. Why jeopardize your safety when you can call on the experts at Cutting Edge? Owner Luke Tamsen personally oversees and guarantees every project, large or small, the company takes on.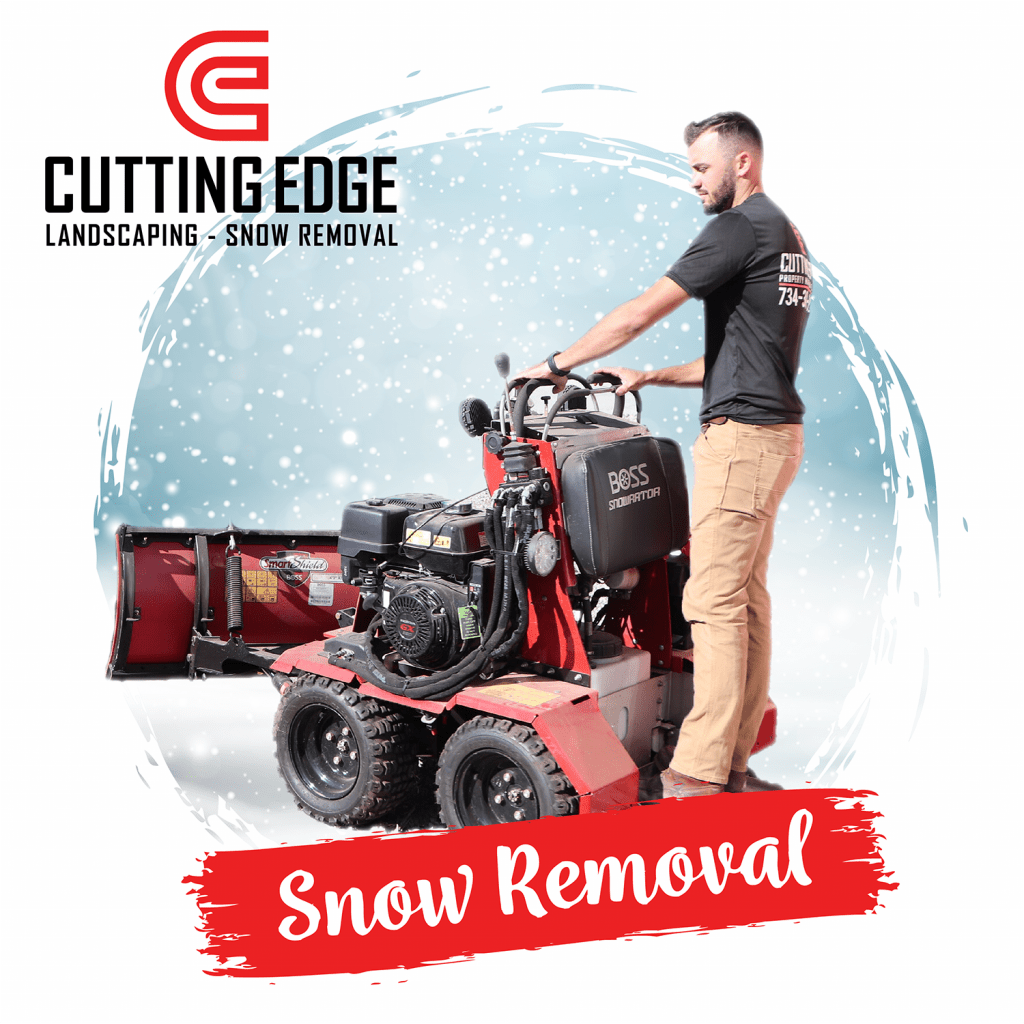 Can customers safely access your business?
If your company's driveway or sidewalk is covered with snow and ice, it's a lawsuit waiting to happen. Not only is it a barrier to customers accessing your business, it is also a safety hazard that can result in serious injuries. Why take that risk when you can call a licensed and insured snow removal company like Cutting Edge? Their prices are totally competitive and affordable, and they offer reliable, weekly services as well as on-demand snow and ice removal. Unlike some other snow removal companies that take a day or two to respond to emergencies, Cutting Edge Property Maintenance reacts quickly and will clear your property in just a few hours. They'll ensure your home and business are fully clear and easily accessible so your family, friends and customers can walk and drive safely.
Call today for a free consultation
Call Cutting Edge today at 734-787-7157 to set up a free property evaluation. A trusted advisor will come to your property to give you a reasonable estimate and plan for a schedule that meets your needs. Whether you require only emergency, on-demand services or weekly snow and ice removal, Cutting Edge will accommodate your requirements. Stop worrying about snow plowing and call Cutting Edge.