If you live in Michigan, you're used to expecting the unexpected when it comes to winter weather. It might be in the 30s or 40s and sunny one day, and in the teens with a foot of snow the next. It's a good idea to be prepared with the usual snow removal gear, such as industrial shovels and snow blowers, however, many times it's not practical to do the job yourself. If you're looking for a reputable snow removal contractor, Cutting Edge Property Maintenance is the best choice.
Excess snow and ice cause hazards on your property
Whether you need to get rid of ice and snow at your home or business, you need a company that is reliable and efficient. If you own a business and it snows a lot, your first priority is to have the snow removed as soon as possible so your customers can safely access your company. If you don't have a plan for snow removal, you could face:
The possibility of someone slipping and falling
Fees, fines, and/or violation notices from your local city office
Business losses if customers can't safely access your parking lot or sidewalk
There are lots of questions you probably have as a homeowner or business owner. Here are just a few:
Q. How much does it cost to get your driveway plowed in Michigan?
A. The cost for snow removal in Michigan varies depending on the size of your property lot. Cutting Edge Property Maintenance offers affordable pricing and will work with you and your budget. You can save money by purchasing a weekly, monthly, or yearly plan for lawn maintenance and snow and ice removal.
Q. Why should I hire a snow removal company instead of doing it myself?
A. It makes more sense to hire a professional snow removal company, for reasons including:
They have heavy-duty equipment and multiple employees that will do the job quickly and efficiently
Cutting Edge can do the job faster than if you do it yourself
Their work is guaranteed
You won't have to worry about injuring yourself while snow shoveling
Professionals will ensure there is no ice under the snow, which can be hard for you to remove
Q. Is it illegal to push excess snow in the road in Michigan?
A. According to the Michigan Department of Transportation (MDOT), the
following are illegal and/or highly inadvisable:
Piling or depositing snow that obstructs vision, as it is a violation of Michigan's Vehicle Code.
Piling snow at the end of your driveway and pushing snow across roads, which can create hazardous conditions.
Leaving sidewalks with snow accumulation, which keeps people from walking safely and accessing public transit.
In short, there are serious consequences related to both finances and physical safety, which is why it's so important to call a licensed and insured snow removal contractor like Cutting Edge Property Maintenance.
Q. Is Cutting Edge a good snow removal company?
A. Absolutely! Commercial and residential property owners alike continue to sing the praises of this reputable, experienced company. Cutting Edge takes pride in every job it's tasked with, large or small. If you need snow and ice removed from your property, debris removed in the fall, or a weekly lawn trim, they do it all quickly and efficiently. Owner Luke Tamsen is a hands-on business owner and oversees each project to make sure everything is done to your specifications.
Q. What type of payments does Cutting Edge accept?
A. They will accept all forms of payments including credit card, debit card, and cash. Recently, they began accepting cryptocurrency such as bitcoin—so your payment options are endless. Their goal is to make sure your services are affordable.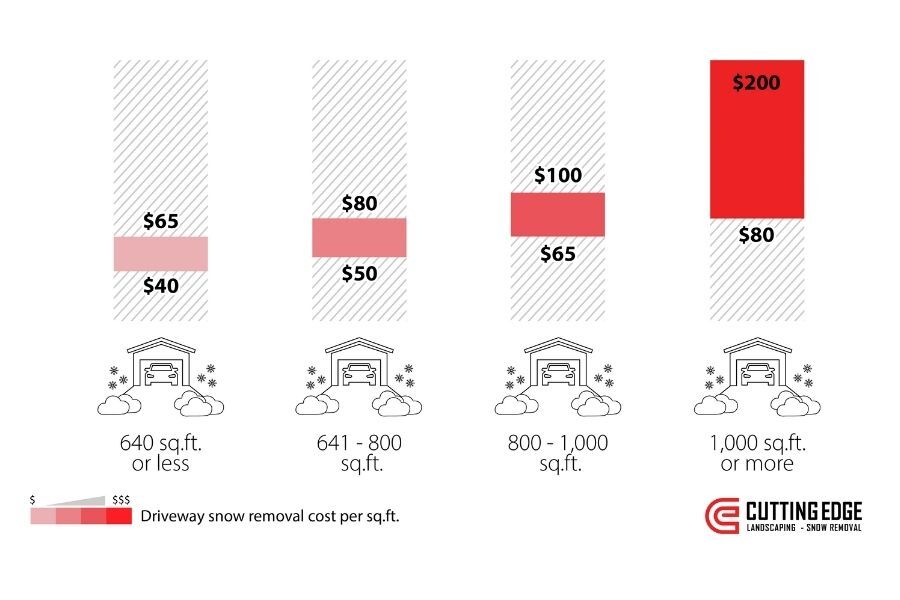 Cutting Edge knows the laws
Cutting Edge Property Maintenance has the capacity and availability to schedule regular snow and ice removal appointments or respond to snow emergency needs at any time. They are the best removal contractor in Downriver Michigan. All employees at Cutting Edge are well-informed and knowledgeable about all Michigan laws pertaining to snow removal, obstructions, and snow emergencies. Depending on the city you live in, most have snow emergency policies, wherein if you don't remove snow that is hazardous or blocking access to city vehicles, you could receive a hefty fine. On top of that, if someone slips and falls at your home or business, you could be facing a lawsuit and thousands of dollars in penalties and judgements. Some cities even have laws stating if you don't remove snow within a certain time, they will do it and then send you an expensive bill. All of this can be avoided if you call the experts at Cutting Edge—they will take 100% of the burden off you so you won't have to worry. Plus, they offer free estimates, so you can get an idea of how much their services will be for your property needs.
Side note: Michigan also has laws about visual obstructions when driving, so it's important to keep your car free of excess snow. A large buildup of snow on your windshield or roof can cause serious accidents and are hazardous to both you and your fellow drivers.
Better safe than sorry
You can try to remove snow and ice from your house or business yourself, but if you don't own industrial snow removal equipment, you won't be able to do a perfect job. When you call a licensed and insured snow contractor, you will be able to clear your property much faster, so guests can visit, and you can safely walk on your sidewalks and driveway. Even if it just snows a few inches, it can freeze and refreeze depending on the temperature, and all that hardened ice can be difficult to break up and remove. Cutting Edge has the right snow removal equipment as well access to a large amount of heavy-duty salt to treat your property so no one will slip and fall. They are the experts at ice and snow removal, and it won't take weeks to schedule a consultation.

Cutting Edge is the #1 snow removal company in Downriver MI
Customer service at Cutting Edge is very responsive and friendly. You will be able to schedule an appointment ASAP so you can plan for future snow removal and landscaping. Call them today at 734-787-7157. You'll be pleased with their attention to detail, and how meticulously they work to ensure your property looks beautiful and snow-free. Residential and commercial customers living in Downriver MI often recommend Cutting Edge Property Maintenance for snow and ice removal services, landscaping, lawn cutting, and much more. They are the most popular snow removal contractor in your neighborhood. Luke Tamsen and his staff of experts will take good care of your property, so you won't have to worry about accidents or city fines. All you'll need to do is relax and sit back, while they do all the heavy lifting. If you'd like to learn more, visit their website at https://micuttingedge.com/. There is no need to take risks by doing it yourself, when there is a company this experienced and reputable. Call them and book an appointment, you will be glad you did.