Spring is here, and that means homeowners are starting to tend to their yards again. It's been a cold, brisk winter, leaving your yard looking less than fabulous. Don't panic, though! If you need spring cleanup services, Cutting Edge Property Maintenance has everything you're looking for. We can cut your lawn weekly or monthly, perform landscaping so your home is surrounded by beautiful greenery, add mulch and rock to your soil, remove brush and debris, and much more.
We're your one-stop-shop for residential yard cleanup. If you own a business and need lawn care, we can do that too. We service both homes and businesses. Conveniently located in Taylor Michigan, we're a fully licensed and insured landscaping company ready to tackle your spring cleanup project in Downriver Michigan.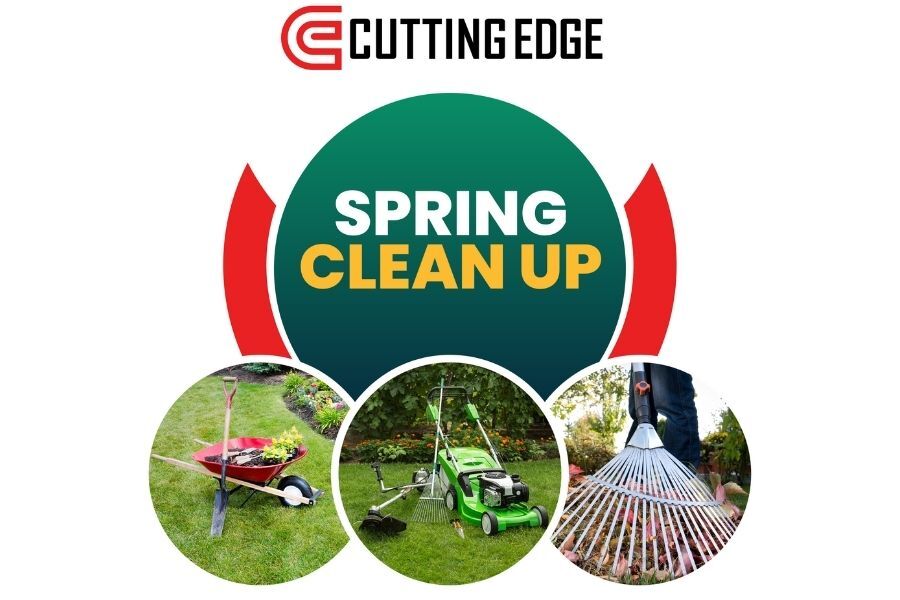 Get rid of unsightly branches and weeds
Removing fallen branches, brush, weeds, and other debris from your yard can be time-consuming and tedious. Why worry about it if you don't have to? Cutting Edge has the know-how, training, and heavy-duty equipment needed to do the job quickly and efficiently. We offer a full range of residential and commercial landscaping services, including:
Lawn care: Mowing, trimming, and edging.
Total fall and spring cleanups: We'll haul all the debris away, too.
Mulch and rock installations: It's a proven fact that mulch adds moisture to your soil, making it healthier.
Retaining walls: Our experts will build you a retaining wall that adds some pizzazz to your yard, even on uneven ground.
Shrub trimming: It doesn't matter if you have a few or a lot, we'll trim all your shrubs as a part of your regular lawn service.
Sod installation: If parts of your yard is bald or spotty new sod will make it look brand new.
Your best bet for a spring yard cleanup in Downriver Michigan is Cutting Edge. We're a friendly, family-owned business that is affordable and meticulous.
Your go-to landscaping company
We've heard many stories from home and business owners who have hired independent lawn care contractors or companies to do their landscaping, and most never even showed up! We take pride in the fact that when we schedule a lawn cut or a landscaping estimate or appointment, we will show up a few minutes early or on time, every time. We are a dependable company, and we think it's important to keep the promises we make to our customers. If we are ever delayed or running behind on a previous project, we'll notify you immediately, so you'll be informed. You can always count on us!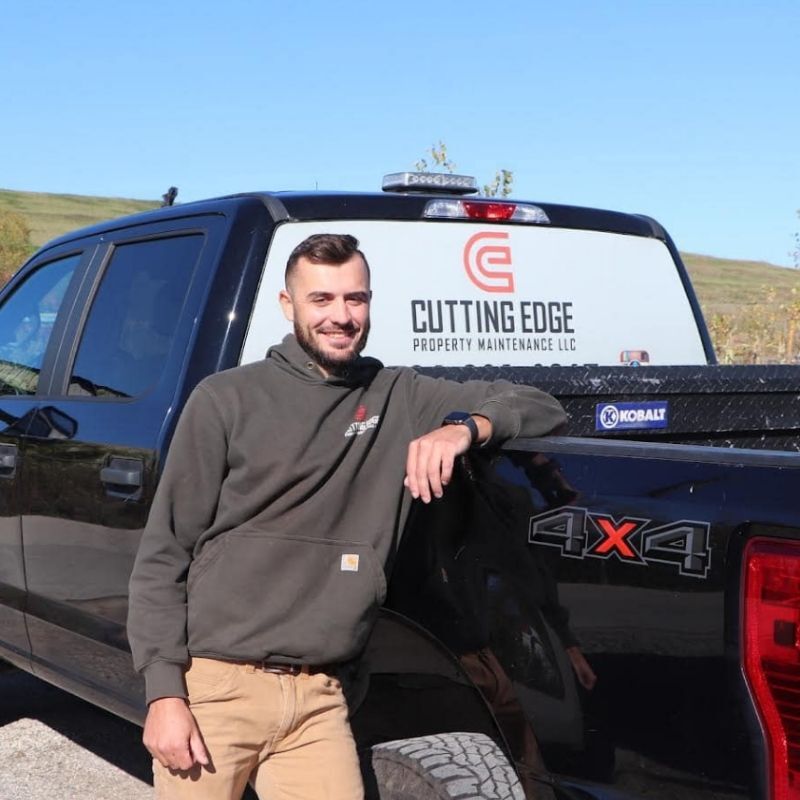 Here are some of our customer's commonly asked questions:
Q. What kind of shrubs should I plant?
A. Some popular, low maintenance choices include Forsythia, Texas Ranger, Vinca Minor, Barberry, and Bergenia.
Q. How often should I cut my lawn?
A. It is recommended that you cut your lawn once a week during the height of the growth season, and during the off season when it's not growing much outside of winter, maybe cut it down to once a month. Cutting Edge can work you into our schedule so your lawn will be freshly cut once a week with no interruptions to your lifestyle.
Q. Is Cutting Edge affordable?
A. Yes! You can do a contract for weekly or monthly lawn service, and if you're interested in a larger scale landscaping project, we'll come out for free and provide you with the most competitive estimate in your neighborhood. We also offer easy credit applications and same-day credit approvals. We accept cash, credit, checks, and cryptocurrency!
Q. What services do you offer in the winter?
A. We offer snow blowing and plowing, ice removal, and salt applications for commercial and residential properties. No job is too big or too small, so even if you have a small driveway and sidewalk that needs clearing, or a large commercial parking lot that needs plowing, we have the expertise and capacity to do the work. The last thing you want is for someone to slip and fall on your home or business property – be proactive and call Cutting Edge so we can make sure your lots and sidewalks are snow and ice-free, salted, and totally safe.
Cutting Edge to the rescue!
There have been times when we've been dumped with several feet of snow, leaving us all scrambling to find or buy a snow blower, shop for salt, shovel snow by hand, or call for a snow plow. We're always on call and can handle a snow emergency if it comes your way. We won't leave you stranded and will make sure you'll get to work or whatever your destination may be – on time. In the spring and summer, we'll spruce up your lawn and get rid of the crunchy brown grass that's take over your yard. We'll water your grass and shrubs and plants with vitamin-enriched water to keep your greenery looking beautiful and healthy. You'll be the envy of your neighborhood with a back and front yard that looks picture-perfect.
Call us for your spring cleanup today!
When you call us at 734-787-7157 and set up an appointment, there is no cost or obligation. We'll come to your home or business and survey your property to give you a fair estimate for yard cleanup, lawn services, landscaping…whatever you may need. We can remove piles of dead branches and take them away so you won't have to deal with them. We'll work with you on scheduling to make sure our landscaping services won't interrupt your daily routine. One of our friendly, helpful advisors will take your call and answer any and all of your questions before we come out. Your 100% satisfaction is always our goal, so if there's something special you want, please let us know. We service the entire Downriver community and will make time for you when it's convenient for you. To learn more about our landscaping and snow removal services, visit our website at https://micuttingedge.com/. We look forward to serving you!