In the Downriver Michigan area, spring lawn maintenance is essential for having a healthy and lush lawn once the weather starts to warm up a bit. With the changing of seasons comes new challenges to lawns, and with the right preparation and care, it is possible to keep your grass in great condition year-round.
Spring Maintenance Tips for a Healthy, Lush Lawn in Downriver Michigan
In the springtime when the snow and ice melt away, grass starts to become active again after its winter dormancy and it requires special care to ensure it will look healthy and green quickly. Here are some tips for spring maintenance on your landscaping and lawn to keep it looking green and healthy in Downriver Michigan.
Testing Your Soil
Before you start any form of lawn care, it is important to test your soil pH levels as this will determine what type of fertilizer you should use. If your soil is not in the ideal pH range of 6.0-7.5, then you may need to adjust it before you begin to fertilize and apply other lawn care products. You can purchase a soil testing kit from any home improvement or garden store that will help you determine the best type of fertilizer for your turf. Make sure you dig down a few inches to get a proper reading. Also different types of grasses will have different recommended pH levels.
Rake the Lawn
Removing leaves, thatch, and debris from the lawn is essential for maintaining a healthy and lush lawn in the Downriver Michigan area. Sometimes leaves and debris can be compacted down into the lawn after snowfall. Leaves, twigs, and other debris can block sun light from reaching the grass blades which can lead to patchy or yellowed areas of the lawn.
Thatch is a layer of dead grass and soil that can form over time, blocking water and nutrients from getting to the roots of the grass and essentially killing off your grass. To remove leaves and debris simply use a leaf rake to sweep them away, then for thatch you may need to hire a contractor like Cutting Edge to dethatch or aerator your lawn which will help break it up so your lawn can get more sunshine and water more easily.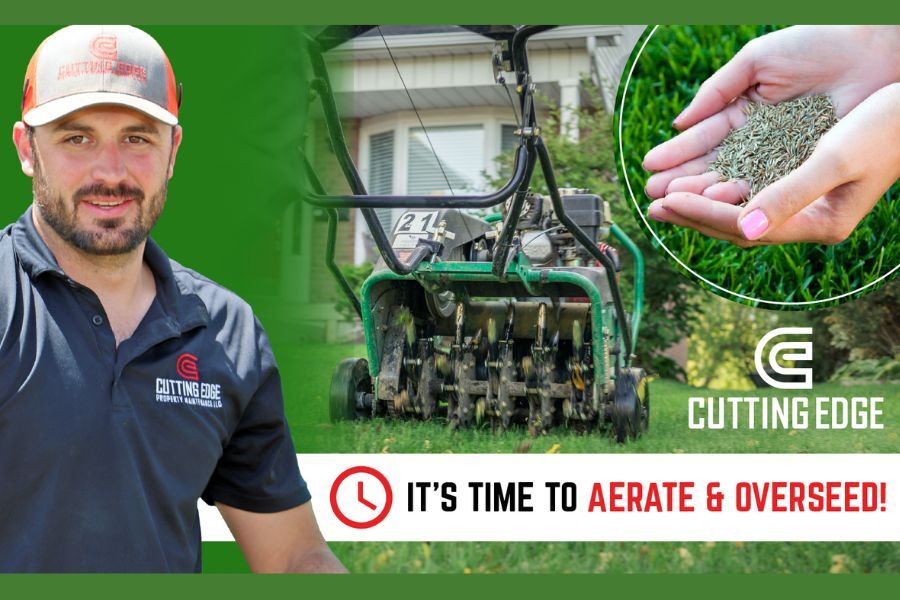 Aerate the Soil
Soil aeration on your lawn is important because it helps to loosen compacted soil, allowing the roots of the grass to get enough oxygen, water, and nutrients down to the grass roots. Aeration also increases water penetration into the soil and reduces puddling which can lead to damaged or dead patches of grass.
Additionally, aerating your lawn creates channels that allow grass seeds to be planted more deep in the soil. This ensures greater contact with moisture and nutrients which are essential for healthy growth of a lawn and can help if you suddenly have a frost or freeze really late in the year.
Finally, lawn aeration helps reduce surface runoff from heavy rain so that less water is wasted and more can be soaked in by the roots of your grass keeping them healthy. All these benefits help promote better overall lawn health for an attractive looking yard!
Fertilize the Lawn
The benefits of fertilizing your lawn any time of year can be great if it needs nutrients that fertilizer can provide. However, fertilizing is more common and can include: providing essential nutrients to help grass grow healthy and strong, promoting root growth for a deeper and more resilient turf, and helping to control weeds by crowding them out with thicker grass. Additionally, applying fertilizer in the spring helps prepare your lawn for the summer months when it will be exposed to longer periods of heat and drought.
Proper Mowing of the Lawn
Lawn mowing is a critical part of maintaining a healthy lawn yet many people simply don't understand the effect that it has on the lawn. When done properly and grass is mowed at specific intervals and heights, it can help promote healthy growth and reduce weeds. Mowing regularly helps to keep the grass at the proper height for maximum health and growth so that it looks great.
We Can Take Care of This For You
At Cutting Edge Property Maintenance in Downriver Michigan we can take care of all of these tasks for you and ensure they are done right! We are a full service landscaping company in Downriver Michigan and can ensure your lawn looks great and is taken care of all year! Call us today to get a free quote on any of the landscaping services we offer in Downriver Michigan at (734) 787-7157.
Frequently Asked Questions